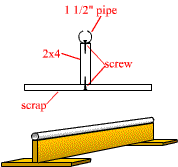 Supplies Needed:
1.5 inch PVC (Thick so it won't break when you grind)
A 10 ft long 2x4
Two 2 ft long piece of scrap wood
2" (or longer) screws, hammer, and drill

Building Instructions:
1. Drill holes in the top part of the pipe (At least 5 holes spaced evenly- and NOT all the way through!)
2. Take the screws and screw the pipe down into the edge of the 2x4
3. Screw the other wood into the base of the 2x4 at each end. This provides lateral support.
Enter subhead content here